I garden in the North (zone 5), so I spend nearly half of the year thinking about gardening instead of actually gardening. I love the winter, but it's sometimes tough to ignore the fact that I'm without one of my favorite pastimes for about six months or so. It's one of the reasons I need my collection of the best gardening books. Rarely do I reference the titles when it's hot and sunny outside. More frequently, I'm paging through the colorful displays of flowers and vegetables to remind myself that the planting season will return again soon. At the tail end of winter, browsing my many gardening books helps to inspire me and get me excited for seed starting when there's still snow on the ground, and it seems like nothing will ever melt, and winter will stay forever.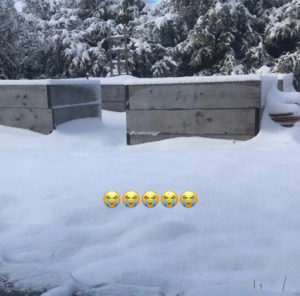 My shelf of gardening books isn't just for reigniting my dirt-digging mojo when the weather has me feeling glum, though. I have carefully stocked my library with informative, helpful gardening books that serve as a useful reference guide. Most of the books in my collection were purchased when I was a fledgling gardener. When I knew little and wanted plenty. Today, even though I know the basics and consider myself an intermediate gardener, I still use those books when I blank on some small piece of information or find myself battling a problem or issue I've never encountered before in my compact front yard garden.
Below you'll find a list of my absolute favorite gardening books that serve to inform and inspire me on a regular basis. Over the years they've gotten dirty, bent out of shape, and are well-worn, but they still find their way onto the potting table when the need arises. I've chosen them because they're the books I used as a new gardener and the books I return to when I need to brush up on information I've forgotten.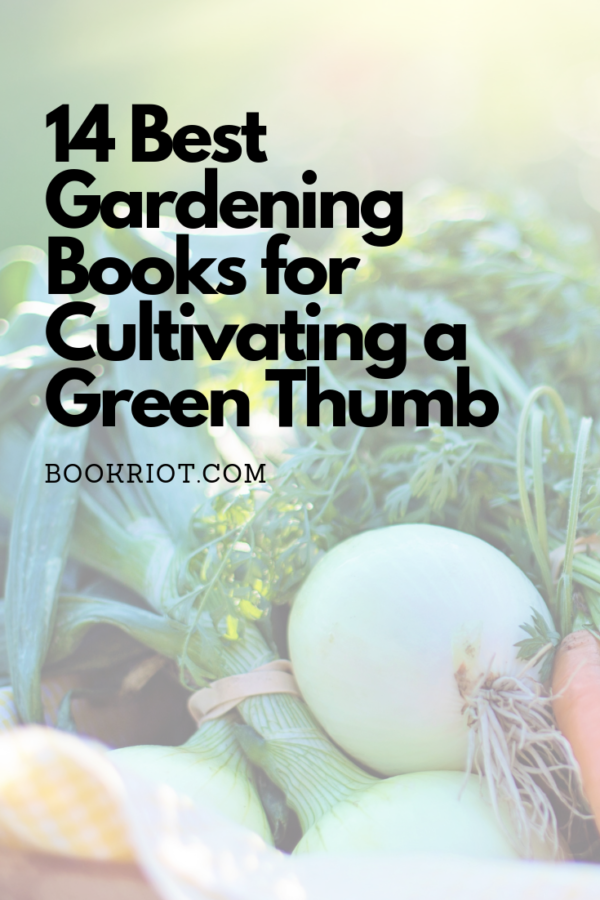 The Best Gardening Books for Cultivating a Green Thumb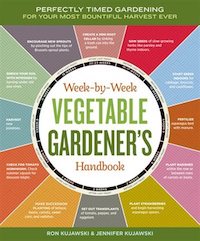 #1 The Week-by-Week Vegetable Gardener's Handbook by Ron Kujawski & Jennifer Kujawski
This book is my vegetable gardening encyclopedia. It doesn't contain as much reference material as most of my other gardening books, but it's truly an invaluable tool. Nowadays, I find myself referencing it less because I've become used to the timing of things, but if you're new and struggling to figure out the best time to start seedlings, transplant, and harvest the different vegetables in your garden, this is THE must-have book. It's laid out like an agenda with spots for notes, but you fill in dates according to your first and last frost dates. The dates will vary depending on your region, but fill them in and you're instantly gifted with an easy time table for everything gardening-related. Among the pages, you'll also find helpful tips and tricks, which have stuck with me in the years since I first purchased the book.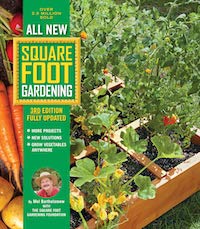 #2 All New Square Foot Gardening by Mel Bartholomew
The book I flip through second-most-often is Mel Bartholomew's guide to square foot gardening. Since its initial publication, the book has been revised several times to include added info and diagrams. What I love most about The All New Square Foot Gardening are the many visuals. The SFG method is aesthetically beautiful, and I love to see photographs of other gorgeous grid-like gardens. If you've never heard of SFG before, the technique involves spacing your plantings in a grid-like fashion to maximize yields in a small space. I highly recommend this method for new gardeners, it's what sparked my passion for the hobby. I even eventually became a certified Square Foot Gardening Instructor!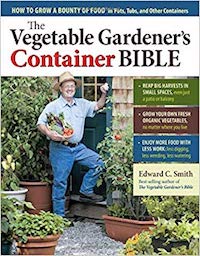 #3 The Vegetable Gardener's Container Bible by Edward C. Smith
If you don't have a whole backyard or front lawn to grow vegetables, you might think gardening is just a fantasy. Not so! Containers and pots are an excellent option for the space-starved. This book includes tips for selecting containers, creating gorgeous arrangements, and how to grow different types of plants in pots. At the end of the book, you'll find a list of container-friendly plants and plenty of helpful tips to get you started. Even gardeners who have plenty of yard space can learn a thing or two from this "bible."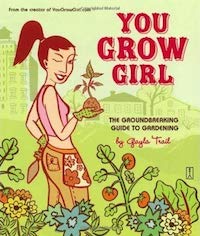 #4 You Grow Girl by Gayla Trail
I think this was my first ever garden book purchase. Gayla Trail's book includes a bit on gardening basics, but the reason I'm including it on this list is because the book has plenty of fun projects to get you started on your gardening journey. It doesn't just throw information at you. Instead, the projects provide a starting point for digging in the dirt.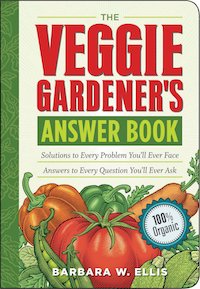 #5 The Veggie Gardener's Answer Book by Barbara W. Ellis
A cute, almost pocket-sized book that's probably a little too thick to tote around town but is an excellent quick reference guide during the planting season. I love the Q&A format and continually flip through to find answers to questions I never even thought to ask.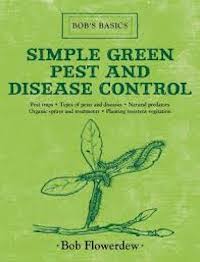 #6 Simple Green Pest and Disease Control by Bob Flowerdew
I hate pests, but I hate harmful chemicals even more, so I purchased this book early on in my gardening career so I could have a reference guide for dealing with annoying bugs in my garden. Since then, I've dealt with cabbage worms, Japanese beetles, aphids, and squash vine borers without panicking. The book also includes a short section on companion planting in addition to chapters that cover all the ways to deal with garden invaders organically.
#7 The Urban Kitchen Gardener by Tom Moggach
I received The Urban Kitchen Gardener as a gift years ago, and I love that it combines two topics that are close to my heart. So many gardening books don't go past the growing stage and stop short of explaining how to harvest, utilize, and preserve crops. This book goes a step further and provides recipes for a selection of plants. For each vegetable, the author outlines the best varieties for cooking, how and when to harvest, along with preservation tips.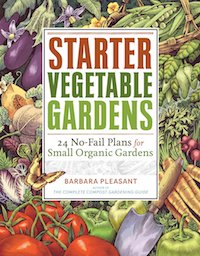 #8 Starter Vegetable Gardens by Barbara Pleasant
This book contains beautiful visual plans for starting your first garden. The included garden ideas may seem overwhelming at first, especially for the very new gardener, but the comprehensive plans lay everything out so you can spend less time planning and more time planting. The plans even include expansion suggestions for subsequent years and lists of what to plant. The book has multiple plans to suit different gardening styles, from small-space designs to low-maintenance options.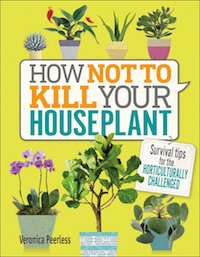 #9 How Not to Kill Your Houseplant by Veronica Peerless
Not ready to take it outside? A guide to indoor gardening may be what you need to help you perk up your interior space and brighten your mood. Did you know that the right indoor plants can even improve air quality? I love indoor plants, but they're somehow harder to care for than even a large outdoor garden. Mother Nature is nowhere to be found inside the house. All the work is left up to you. This book includes tips to help you care for your plant babies and even pick the right ones for your space.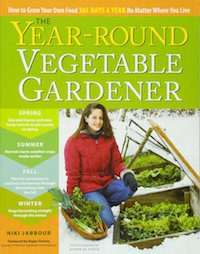 #10 Year-Round Vegetable Gardener by Nikki Jabour
If you've been gardening for a year or two and want to take on a new challenge, it's likely you've started to think about extending the season and to increase your potential harvest. The Year-Round Vegetable Gardener is the first book I'd recommend if you live in a location with harsh winters and still want to grab veggies from the garden after the first frost.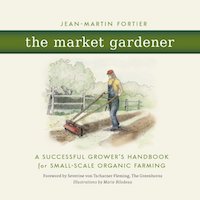 #11 The Market Gardener by Jean-Martin Fortier
Technically, this book is aimed at more experienced gardeners who are interested in potentially profiting from their harvests, but I think it's worth a mention. The small-scale methods described in the book are applicable to home gardeners, and I've found the seed starting and crop planning sections to very helpful and informative. I've always found timing tough to get right, and The Market Gardener has some excellent tips for extending the season. While it's useful for gardeners in all areas, I recommend it especially for gardeners in northern climates like mine.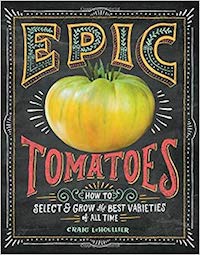 #12 Epic Tomatoes by Craig LeHoullier
Is there anything more satisfying for a gardener than picking and slicing into a juicy, bright red tomato? Well, I'd argue that eggplants are superior, but I can't deny the appeal of fresh tomatoes. This book weaves storytelling and garden guidance together to deliver everything you need to know about tomatoes. I read it like a regular book, from cover to cover, because I found it so engaging. I loved the descriptions of the different tomato varieties, and when I was done, I quickly went online to purchase new tomato seeds to try.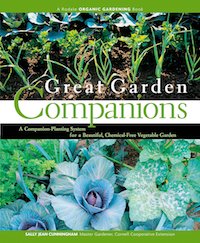 #13 Great Garden Companions by Sally Jean Cunningham
Some people will tell you that companion planting isn't necessarily an exact science. Most of the evidence for this type of planting is anecdotal, but I believe that anything is worth a try. I've also had plenty of luck planting marigolds next to pest-magnet plants and find that anything planted next to my onions seems to be pest-free. This book is a handy companion planting reference and perfect for those who prefer analog garden planning.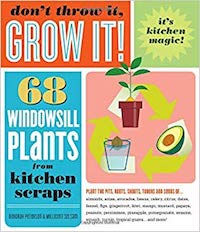 #14 Don't Throw It, Grow It! by Deborah Peterson
Start with scraps! If you're totally new to gardening, don't bother spending money on tools and supplies just yet. Start your adventure by growing kitchen leftovers. Forget the compost bin and flip through this colorful guide to help you choose your next recycled plant growing project.
A Few inspirational & Diverse Voices to Follow in the Gardening Space
You'll notice that most of the books above aren't exactly written by a diverse set of people. Lists of gardening books tend to be very white. There are, however, a host of diverse gardeners online who are incredible resources bursting with information and personality that you might have trouble finding in a book.
If looking through gardening books gets me excited about my own garden, looking at other people's green spaces and hearing their tips and tricks is a huge inspiration. The gardening community on Instagram is vast and includes a diverse group of talented, helpful folks that you should be following. Here are a few suggestions for who to follow:
Charles Low
Follow for the gorgeous images of terrariums and greenery.
View this post on Instagram
Keeping it simple with fuss free routine. #plant #urbangarden #greenlife #plantlife #terrarium #urbanjungle #moss #slowliving #slowlife #plantsmakepeoplehappy #mossingarden
Claire Ratinon
Follow for organic growing inspiration and tips.
View this post on Instagram
Au revoir l'ile Maurice. Jusqu'à la prochaine fois xx
Darryl Cheng
Follow to see houseplants thrive even if you end up killing all of your own.
View this post on Instagram
Tomorrow 9am-noon: I'll be signing books at the @valleyviewgardens Spring Open House. My friend @melissamlo will also be here doing some amazing giveaways. The nursery will be super lush. Bring the whole family! ~ ~ #houseplantjournal #houseplants #plants #urbanjunglebloggers #houseplantclub #plantdad #plantobsession #plantparenthood #greenthumb #foliage #valleyviewgardens #botanical #greenery #indoorplant #indoorgarden #interiorrewilding #keepitwild #wildinside #thenewplantparent #hpjbook
Kevin Espiritu
Follow for a wealth of information, small-space tips, and an intoxicating exuberance for growing plants. (He also has a gardening book available for preorder!)
View this post on Instagram
ENDIVE – I used to struggle to germinate endive seeds, but as you can see those days are behind me…endive seeds can become dormant when the temperature is too hot, usually preferring colder than normal temps for germination (60-68°F / 15-20°C). They also need to be barely covered with soil, about 1/8" or so. Love this variety, Batavian Full Heart from Baker Creek…super different from the traditional varieties. Also seems to be a bit more tolerant of the heat, which I need here in Zone 10b. Do you have any seeds you just can't seem to germinate? Lemme know! . . . #epicgardening #leafygreens #growyourown #urbanorganicgardener #urbangardenersrepublic
Olive Watkins
Follow her on her farming journey.
View this post on Instagram
I took this photo in the tobacco field at Pine Knot Farm in Orange County, NC. A 120 year old black farm that has been organic certified since 1994. At one point in NC, tobacco was king! This was my first time meeting an older black farmer…most of the farmers I am around are young. It was great to talk with someone who has seen it all! From Jim Crow to segregation and getting pushed out of farmers markets because of the color of his skin. Because I am still in the beginning stages of starting up my own farm, it is easy to be naive about all of the barriers that are coming up on this journey. It was great to get a dose of reality and even with that dose of reality, still feel very much committed and determined to walk this path. Are there any other beginning farmers out there that are making an effort to connect with older more experienced farmers?
Timothy Hammond
Follow for a slew of how-to videos and gardening tips.
View this post on Instagram
These big green leaves are Swiss chard. Since spring spring over here it's been going crazy. Shout out @msinspireyou these were grown at a garden that I recently adopted- the Kashmere Garden. I started off teaching gardening classes to the ReDirect program. That has now grown to teaching classes to the Boys & Girls Club as well. Just pure dope. Check out the dope shirt- I got it from my man @cropswap ___________________________________________ • • • • #AlwaysGrowingFood #GardenCoach #GardenDesign #GardenDesigner #Zone9A #GrowingHouston #HoustonTexas #GrowForIt #GardenDesign #GardenInspo #GardenGoals #GardenInspiration #GetGrowing #GardenGram #UrbanGarden #GardenView #UrbanGardening #GrowOrganic #InMyGarden #BlackExcellence #GrowingFood #GrowFoodNotLawns #VegetableGarden #EpicGardening #TheHappyGardeningLife #UrbanGardenersRepublic #GardeningClass
I also recommend following Humans Who Grow Food on Facebook or on Instagram. The page features a variety of gardeners, growers, and farmers from all around the world.
Read more: bookriot.com