This literary sister quiz is sponsored by The Summer of Sunshine & Margot by Susan Mallery.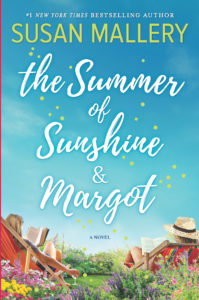 Twin sisters Sunshine and Margot are as different as chalk and cheese, but what they do have in common is a complete lack of luck when it comes to love. Emotionally stunted by a mother who dropped everything to follow boyfriend after boyfriend, the sisters have ever only had each other for support and to share a pint of post-heartache ice cream. When Margot, an etiquette specialist, is hired to work with Bianca, an icon from Hollywood's Golden Age with romantic entanglements of her own, she and Sunshine become the daughters she never had, and their friendship teaches them how to embrace the quirks that make them unique, and how to demand the love they deserve just as they are.
I'm the youngest of three sisters, and every time I read a book with sisters, I assign each of us to one. My sister Leasa is Meg, Marianne, Jane; my sister Katherine is Jo and Ramona; I am Amy and Beezus, and as an adult, Elizabeth. We know our sisters longer than anyone else in the world, and they can drive us mad, comfort us, know exactly what we need to hear at exactly the right time, and be a big pain in the arse. They're sisters. That's what they're there for.
I paired these literary sisters off. If you have more than one sister, then you can take the quiz multiple times to see which literary sister pair matches each sister!
Books mentioned:
The Color Purple by Alice Walker
Beezus And Ramona by Beverly Cleary
The Penderwicks by Jeanne Birdsall
Pride by Ibi Zoboi
Sense And Sensibility by Jane Austen
Little Women by Louisa May Alcott
Practical Magic by Alice Hoffman
If Beale Street Could Talk by James Baldwin
The House On Mango Street by Sandra Cisneros
To All The Boys I've Loved Before by Jenny Han
We Have Always Lived In The Castle by Shirley Jackson
The Hunger Games by Suzanne Collins
We have even more sister quizzes!
Read more: bookriot.com