Sometimes you want your food to be smarter than you. Alas, flying to your favorite literary destination and ordering haute cuisine as a locally famous poet reads you your favorite book in its untranslated glory doesn't fit into your busy book-reading and food-eating schedule. What's an epicurean to do? Make it yourself, that's what! The recipes in these books are not only better than what you'd get from the Boston Public Library Cafe, but they come with a literary bent that is unique among cookbooks. So pull out the mixing bowls and make yourself a fancy literary meal from one of these fancy literary cookbooks. Then, if you're still craving some extra refinement, eat it by candlelight with your NaNoWriMo group as you listen to some fancy literary art.
cooking-cookbooks-feature-640x340.jpg" alt="" width="600" height="320" srcset="https://s2982.pcdn.co/wp-content/uploads/2019/10/cooking-cookbooks-feature-640x340.jpg 640w, https://s2982.pcdn.co/wp-content/uploads/2019/10/cooking-cookbooks-feature-640x340-300x160.jpg 300w, https://s2982.pcdn.co/wp-content/uploads/2019/10/cooking-cookbooks-feature-640x340-50x27.jpg 50w" sizes="(max-width: 600px) 100vw, 600px" />
The Alice B. Toklas Cookbook by Alice B. Toklas
Belay those weed jokes, if you please. This is a very serious piece of literary, historical, and scholarly import, with implication for—oh hell, the hashish fudge recipe is on page 259.
This is both a great cookbook and more than that. Much of it examines the German occupation of France from a culinary perspective, giving it a unique and interesting context not often seen in cookbooks. The recipes are generally French. As you read, keep in mind that Toklas and Stein were very privileged to begin with and their experience of the war was colored by that. For example, Toklas was used to having a kitchen staff. She discusses the difficulty of getting competent servants, which may or may not mirror your own experiences as an epicurean.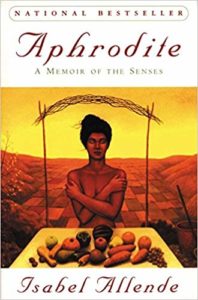 Aphrodite: A Memoir Of The Senses by Isabel Allende
It's safe to say that Isabel considers food a…sensual experience. In fact, you may want to read this book in private before inviting that hot crush over for a test run of some of the spicier recipes. The Widower's Figs are particularly well-suited to a playful evening. Allende doesn't just deliver recipes in this unique exploration of food and love, she defends an embrace of the erotic and the joyful with typical Allende literary mastery. Cameos by other greats, including Anaïs Nin and Pablo Neruda, add some extra sauce.
Eat This Poem: A Literary Feast of Recipes Inspired by Poetry
by Nicole Gulotta
People are obsessed with food. Because of that, there's a lot of food poetry out there, and this is where they congregate. The inspirations behind this collection of recipes include Mary Oliver's Mushrooms, While Eating A Pear by Billy Collins, and The Man Born To Farming by Wendell Berry. Sections begin with their poetic inspiration, analyze the poem and explain its meaning, and then proceed to the recipes from there. It's really a very lyrical and beautiful book, and it'll impress the hell out of your brunch club.
Hallelujah! The Welcome Table: A Lifetime of Memories with Recipes by Maya Angelou
As you might expect, Maya Angelou's recipes come with some amazing stories. This is essentially the story of her life in food, in friends, and in letters. From a Creole kitchen where she had to cook food she knew absolutely nothing about to gatherings with literary friends, she turns food into an experience. Plus, she was apparently an excellent cook. These recipes are all divine—try the lemon meringue pie for a real treat.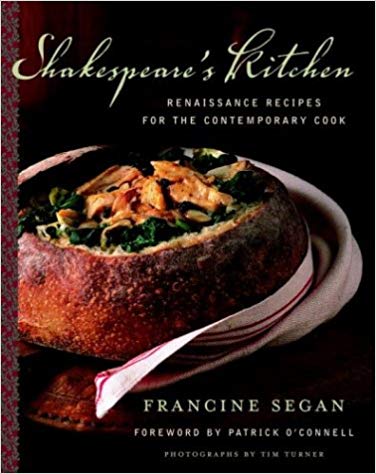 Shakespeare's Kitchen by Francine Segan
Contrary to popular belief, old timey British people often ate pretty well and had an array of delicacies that evolved into ones that we still enjoy today. In an impressive feat of culinary archeology, Segan has restored recipes from the Bard's era to give us modern types the gift of original Elizabethan dumplings and other delights that Shakespeare himself might have enjoyed. The amount of research that went into this thing must have been amazing. The only quibble possible for a true historical foodie is her tendency to substitute hard-to-get ingredients. That said, if you've got a kickass source for hummingbird tongues, knock yourself out.
Still want more literary cookbooks? Check out these delicious culinary comic books! If that's not enough, delve into southern cooking.
Read more: bookriot.com