This post was originally published in our mystery/thriller newsletter, Unusual Suspects. Sign up for it here to get mystery news, reviews, deals, and more!
Hello mystery fans! I have three mystery books perfect for escape-reading, depending on your mood: cozy, historical, and a fun thriller. Also, for fellow horror/Gothic/suspense fans, I just finished the audiobook for Mexican Gothic by Silvia Moreno-Garcia and you should definitely pick that one up to hit your creepy-house-vibes craving (TW suicide/rape).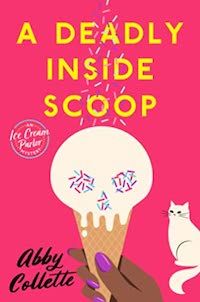 A Deadly Inside Scoop (An Ice Cream Parlor Mystery #1) by Abby Collette
This was exactly what I needed to read to destress. Bronwyn Crewse is a great-at-marketing MBA grad who moves back to her hometown to take over the family ice cream shop. It was originally started by her grandparents and her plan is to bring it back to its old glory, but she's going to have a lot of challenges, including opening up during a snowstorm and other pesky things, like finding a dead guy. And her father is a suspect.
Clearly she isn't going to have any of that, so she's going to have to figure out who the murdered man was, who murdered him, and why. But first, she's gotta keep thinking up the most delicious ice cream flavors to entice customers, and you may need to use the book's pages to wipe the drool while reading the descriptions. Seriously, keep a pint of ice cream handy; you're going to have a craving. This is perfect if you need a gentle read, following a woman with a great support system and family. And bonus for being a really good audio listen.
Vera Kelly Is Not A Mystery (Vera Kelly #2) by Rosalie Knecht
Here's a super good character driven series that goes from 1960s CIA spy novel to PI novel. Vera Kelly is having a rough time: she's left the CIA; her girlfriend has dumped her, which Kelly didn't even see coming; her job has fired her for being a lesbian. What's a woman to do? Apparently, put an ad in the paper about your services as a PI.
Kelly's first case is finding the son of Dominican exiles who ended up in the New York foster care system and has since disappeared. From her favorite local bar, and a bartender she likes, to the Dominican in search of answers, we get to know more of Kelly as she struggles to make sense of the past and find balance between her reserved demeanor and search for found family. If you're looking for a cold war spy series not like the others and enjoy dry witted, clever women trying their best to find their way, this is your next great read! (TW alludes to teen predator/ homophobia/ mentions past suicide, no detail)
You Can't Catch Me by Catherine McKenzie
This was the perfect balance of not too ridiculous so I can stay focused and care, and not too realistic where it's dark and not fun. Which is why I always pick up McKenzie's books; I'm always guaranteed a hook I can't look away from, and then a fun ride. Basically, exactly what I was looking to read right now. It also managed to hit upon so many things that I am just naturally drawn to, starting with a cult.
Which is Jessica Williams's past, having escaped a doomsday cult she was born into. That was 12 years ago, when she was 18 and escaped with the help of a man who became a mentor, and a crush in the process. Now, she's the woman known all over the internet for having copy/pasted someone else's story as her own. So she's been fired and publicly dragged. She decides to go to Mexico and disconnect from the world for a while, which only makes things worse because she very naively plays a game in the airport with a woman who has her same name. That game was a setup for that other "Jessica Williams" to steal her identity and empty out her bank accounts.
It's only a matter of time before it occurs to Jessica Williams 1 to find out if this little game had been played before and if there were other victims, then leading her to those women who, all together, devise a trap… You get the current plot line as the Jessica Williamses team up to catch the fake one and get justice — or at least their money back; the past life of Jessica Williams 1 growing up in the cult, her support group with other cult members, and her relationship with the man who saved her. (TW child predator, past not graphic/ suicide past, detail, note/ child abuse/ alludes to past rape, no detail)
Read more: bookriot.com