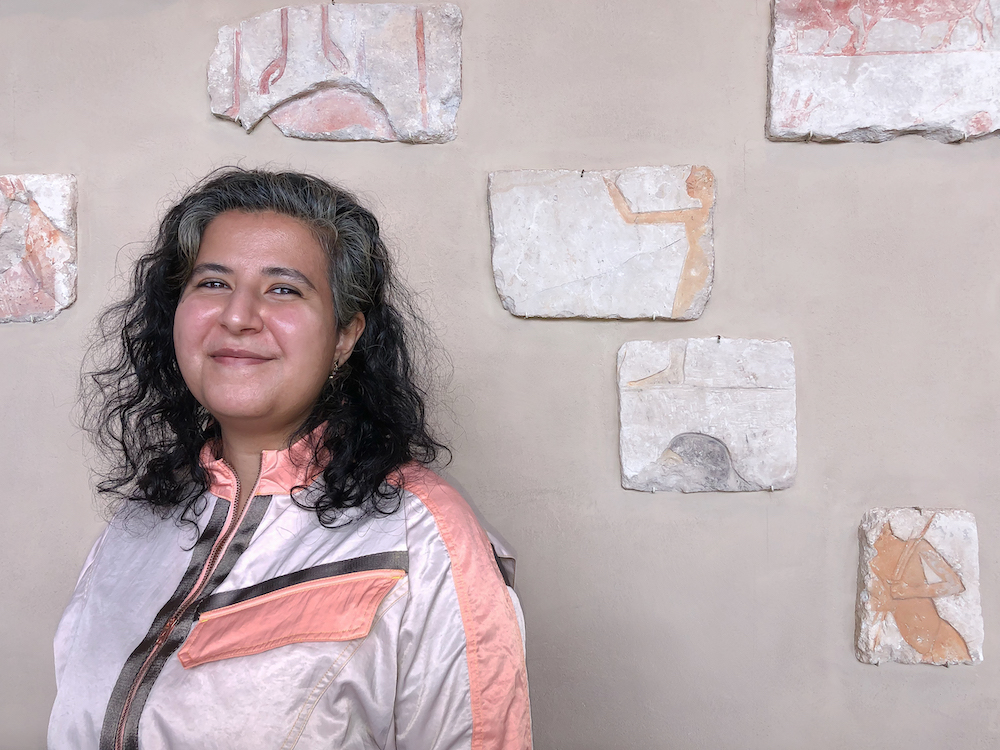 Marwa Helal is the author of Invasive species (Nightboat Books, 2019), Ante body (Nightboat Books, forthcoming 2022), and winner of BOMB Magazine's Biennial 2016 Poetry Contest. She is also the author of the chapbook I AM MADE TO LEAVE I AM MADE TO RETURN (No, Dear/Small Anchor Press, 2017) and has been awarded fellowships from the Jerome Foundation, NYFA/NYSCA, Poets House, and Cave Canem, among others. Born in Al Mansurah, Egypt, she currently lives in Brooklyn, New York.
*
Two poems from Invasive species:
"poem to be read from right to left"
language first my learned i
second
see see
for mistaken am i native
go i everywhere
*moon and sun to
ل letter the like
lamb like sound
fox like think but
recurring this of me reminds
chased being dream
circle a in
duck duck like
goose
no were there but
children other
of tired got i
number the counting
words english of
to takes it
in 1 capture
another
//
*شمسية و قمرية
*
"poem for palm pressed upon pane"
i am in the backseat. my father driving. from mansurah to cairo. delta to desert,
heliopolis. a path he has traveled years before i was born. the road has changed but the
fields are same same. biblical green.
………………………………hazy green, when i say: this is the most beautiful tree i have ever
seen. and he says, all the trees in masr are the most beautiful. this is how i learn to see.
…………..we planted pines. four in a row. for privacy. for property value. that was
…………..ohio. before new mexico. before, i would make masr
…………………….my own. but after my mother tells me to stop…….asking her what is wrong
whenever i see her staring
out of the living room window. this is how trauma learns to behave. how i learn to push
against the page. i always give hatem the inside seat.
so he can sleep. on the bus.…………………………………..his warm cheek against the cold
window. when i am old enough to be aware of leaving. it is raining hard.
…………………………………………5000 miles away, there is a palm. in a pot. its leaves
pressed. skinny neck bent. a plant seeking light in an animal kingdom.
Read more: theparisreview.org